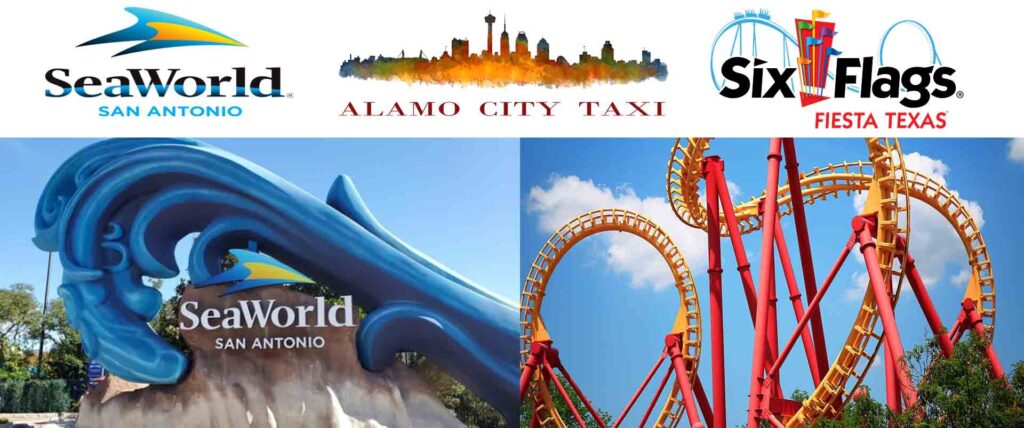 Are you planning to visit the incredible amusement parks of Six Flags and SeaWorld in San Antonio, Texas? Get ready for an unforgettable adventure! But what about transportation? Don't worry, at Alamocitytaxi, we're here to make your experience easier, safer, and hassle-free.
Imagine this: a morning filled with laughter and excitement as you soar through thrilling roller coasters at Six Flags, followed by a magical afternoon with marine animals at SeaWorld. Now, what if we told you that you could enjoy these parks without having to worry about transportation?
At Alamocitytaxi, we understand that traveling in a group can be challenging. Coordinating multiple vehicles and dealing with the stress of traffic and parking can dampen anyone's spirits. That's why we offer our exclusive round-trip service for up to 6 people, ensuring that your family enjoys a comfortable and hassle-free ride.
By booking our round-trip taxi service, you can forget about transportation worries and focus on what truly matters: creating wonderful memories with your loved ones. Our highly trained and professional drivers will pick you up promptly from your location and take you directly to Six Flags or SeaWorld.
But that's not all. Our fleet of vehicles is equipped with amenities to make your journey even more enjoyable. Enjoy air conditioning, comfortable seating, and ample space to accommodate your family and their belongings. Plus, our drivers are well-versed in the city and parks, ensuring they take the most efficient route, so you arrive on time and make the most of your day.
Safety is our top priority. At Alamocitytaxi, we take pride in meeting the highest safety standards. All our vehicles undergo rigorous inspections and regular maintenance to ensure a safe and reliable ride. Additionally, our drivers are licensed professionals with experience, providing you with friendly and courteous service.
Don't wait any longer! Visit our website at www.alamocitytaxi.com and book your round-trip service today. Let Alamocitytaxi take care of your transportation needs, so you can fully enjoy Six Flags and SeaWorld without any worries.
Remember, at Alamocitytaxi, our mission is to provide you with reliable and comfortable transportation, ensuring your experience in San Antonio is exceptional. Trust us and book now.
"Reserve Now" and get ready for an amazing day at San Antonio's parks!